This week's selection of fancy bottle packages:
Fini, Balsamic Vinegar of Modena
It seems that Modena is not just the capital of Engines! In addition to the factories of the famous Italian sports car makers Ferrari, De Tomaso, Lamborghini, Pagani and Maserati, Modena also produces fine balsamic vinegar!
Fini's unique bottle design reflects the gourmet vinegar since 1912:
Aged in 6 different types of wood including cherry, ash, mulberry, juniper and chestnut to obtain a unique flavor.
Aged approximately 12 months
Imported from Italy
Consorzio Aceto Balsamico di Modena Certified
No-drip design on the Fini stopper.
Costs 100 Saudi Riyals ( 40,000 lebanese lira) in supermarkets, in Amazon (25$) i.e 93 Riyals.
Has a rich, syrupy balsamic with deep and complex flavor
Obviously, It is a luxury item, a gourmet vinegar. But you'd definitely would want to try this versatile vinegar on salads, over cheese, to marinate chicken, meat or fish. Give your homemade food a Gourmet touch!
I found these bottles in
Danube Supermarket
( Hayat Mall, Riyadh, KSA).
Original : 3 leaves ( used on cheese, salad, meat, fish, hot sauces)
Jean Paul Gaultier Coca Cola Design
Two Coca Cola bottles are designed in the Jean Paul Gaultier's ( Hermes Creative Director) couturier signature blue-and-white Breton sailor stripes, corsets, and unique tattoos. Following the limited edition Diet Coke bottle, Diet Coke has unveiled exclusive 'Night & Day' cans



Finally, in KSA received the new limited-edition bottle designs for the soft-drink brand, a year after its launch.

You can find these special designed Coca Cola Light bottles in

Pain D'or

( Riyadh, KSA). I havent checked the Lebanese Pain D'or though it might have too!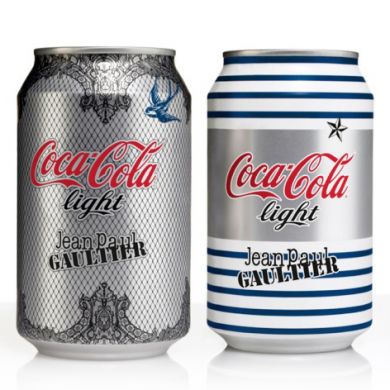 Luciano Pavarotti's Acqua Panna
Acqua Panna still mineral water encompasses the culture, heritage and refined elegance of the land from which it flows: Tuscany. A history of good taste since 1564.
The official launch of the Special Edition that S.Pellegrino and
Acqua Panna
have been dedicated to the Maestro:
Luciano Pavarotti.
The Italian tenor will be featured on a series of limited edition labels, whose bottles will be distributed to the world's best restaurants. To celebrate Pavarotti once more, in the context of his other great passion, alongside music: his homeland and fine dining.
More Photos of the Event from Aqua Panna 's
Facebook Page